Stainless Steel Pipes with WELDED PIPES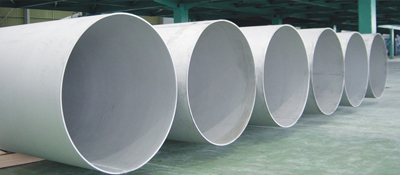 Welded Pipes:O.D.6-300mm W.T0.5-66mm
ASTM/ASME:A213/SA213 A249/SA249 A268 A312/SA312 A269 A270 A358 A376 A409 A511 A688 A789 A790 A803 A928 
A544 A409 A632 A688 A778 A908
SB161 SB163 SB167 SB338 SB407 SB423 SB444 SB619 SB622 SB626 SB668 SB677 SB829
JIS:G3459 G3446 G3447 G3448 G3459 G3463 G3468
DIN:17455 17456 17457 17458 17459 2391 2462
EN:10216-5 10217-7
GOST9941 GOST9940
NFA NACE API  ISO HAF
Materials:304/304L/304H;321/321H;316/316L/316H;316TI;317L;347H;310S;UNS31803;UNS32750/U NS08904L,
TP410/TP410S;
ECTDelivery condition: Normal annealing+Tempered;Brighting annealing;BK;Pickled;
Packing:Plastic plugs in both ends, Hexagonal bundles of max. 2,000kg with several steel strips,
 Two tags on each bundle, Wrapped in waterproof paper, PVC sleeve, and sackcloth with several steel strips;
wooden case packing with steel frame;
Test:Chemical Component Analysis, Mechanical Properties (Ultimate tensile strength, Yield
strength, Elongation), Technical Properties (Flattening Test, Flaring Test, Bending Test, Hardness Test, Blow Test,
 Impact Test etc), Exterior Size Inspection.
Mill Test Certificate:EN 10204/3.1B

Previous: 没有了!
Contact Us

Jiangyin Donghao Stainless Steel Tube Co.,Ltd
Add:No.88,Zhenyang Road, Qingyang Town, Jiangyin City, Jiangsu Province,People's Republic of China.
Email:Sales@dh-pipe.com
Tel:0086-512-58220050
Fax:0086-512-58810865
dhpipe
dh-pipe@hotmail.com
Web: www.dh-pipe.com