Jiangyin Donghao Stainless Steel pipe Co.,Ltd as one of the Manufactory belong to China Haohua industry Group, As one of  the leading suppliers in China to supply the tubes and pipes for petroleum industry and Heat-Exchanger industry and Machining Industry etc...Our company occupying over 40,000 sq.m with over 30,000 sq.m of standard workshop, the company owns over 10,000,000 USD fixed capital, over 350 permanent employees and over 50 technical persons including 20 assistant engineers and senior engineers.
With substantial investments and ongoing innovation, we now offer a more complete line of products, a wider range of sizes, and more material grades, including Austenitic Stainless Steel,Ferritic Stainless Steel,Nickel Alloys, Super Duplex and Titanium. These products are widely used in avigation, spaceflight, petroleum, chemical industry, oil refining, fertilizer, shipbuilding, food and biological engineering, as well as are sold overseas.
Product specifications:Seamless steel pipe: OD Φ6~530mm, WT 0.7~45mm, Length ≤ 20m;
welded pipe: OD Φ13~1000mm , WT 0.5~20mm , Length ≤ 20m;
We carry out the national standards, American standards, and other relevant standards that customers require, with annual production capacity of over 20,000 tons of stainless steel pipes.Jiangyin Donghao Stainless Steel Tube Co.,Ltd draws its strength from technical excellence and a highly trained and motivated workforce. The company's persistent commitment to quality and on-time delivery has been rewarded by customer loyalty.
We are prepared to face new challenges, to extend the activities of us beyond traditional home markets and to support this with local production capabilities closer to the end-users.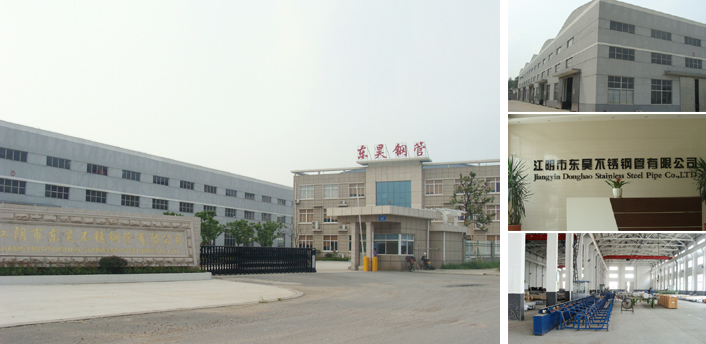 Contact Us

Jiangyin Donghao Stainless Steel Tube Co.,Ltd
Add:No.88,Zhenyang Road, Qingyang Town, Jiangyin City, Jiangsu Province,People's Republic of China.
Email:Sales@dh-pipe.com
Tel:0086-512-58220050
Fax:0086-512-58810865
dhpipe
dh-pipe@hotmail.com
Web: www.dh-pipe.com