Stainless coils tubing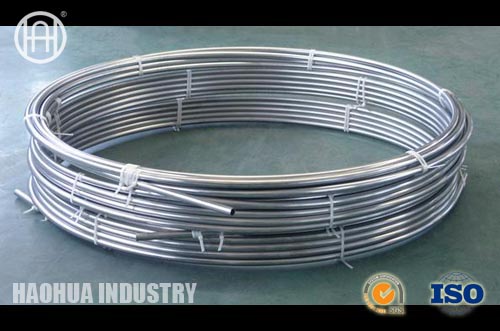 Size Range
Outside Diameter:  1/16" through 3/4"
Wall Thickness: 0. 010" through .083"

Welded Tubing
Governing Production Specifications – ASTM A249 and ASTM A269

Seamless Tubing
Governing Production Specifications – ASTM A213 (average wall) and ASTM A269


Technical Conditions:
Fully Annealed, High quality, Burst free Stainless Steel tubes.
An outside diameter range from 4mm OD to 25mm OD
A wall Thickness range from 0.36mm to 1.5mm
starting from a single production line for electro welded stainless steel tubes with small diameters and wall thickness,
 with a yearly production of 2,5 million meters in three different diameters (7,50 - 9,50 - 10,00 mm).
Outside Diameter and wall thickness ranging from 0,36mm to 1,50mm thick , in addition to a wider range of 
diameters and 
wall 
thickness, we can also supply bright heat-treated tubes in controlled atmosphere, either in coil, fixed or cut to length 
tubes up to 20 meters.
We produce in compliance with the international standards foreseen for the different types of product and different 
applications. Up to 300 bar pressure testing is carried out on 100% of the heat-treated tubes supplied in coils. 
Alloys normally used range 
from austenitic, AISI 300 series, to refractory high nickel 
content alloys (alloy 800 - 825 - 840, alloy 600 - 601).
28 million meters per year on 12 production lines, 40 different tube diameters ranging from 4,00mm to 25.00 mm 
Previous: 没有了!
Contact Us

Jiangyin Donghao Stainless Steel Tube Co.,Ltd
Add:No.88,Zhenyang Road, Qingyang Town, Jiangyin City, Jiangsu Province,People's Republic of China.
Email:Sales@dh-pipe.com
Tel:0086-512-58220050
Fax:0086-512-58810865
dhpipe
dh-pipe@hotmail.com
Web: www.dh-pipe.com