Stainless bending tubes ASTMA789 UNS08904L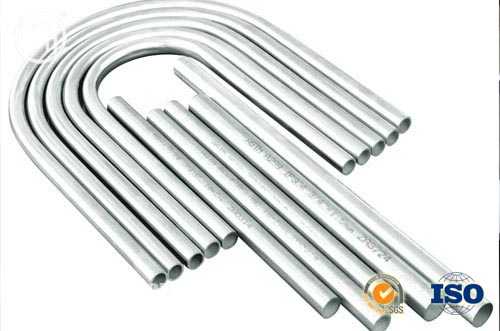 Size Range:OD 5/8"~1 1/2" , WT 1.65mm~2.77mm  Min Radio: 29mm ; Max Radio:675.84mmType of End-Finish:PE
ASTM/ASME:A213/SA213 A249/SA249 A268 A312/SA312 A269 A270 A358 A376 A409 A511 A688 A789 A790 A803 A928 A544 A409 A632 A688
A778 A908Materials:304/304L/304H;321/321H;316/316L/316H;316TI;317L;347H;310S;UNS31803;UNS32750/U NS08904L,TP410/TP410S;ECT
Tchnical conditions:
Heat treatment:Stress relive annealing of U-tubes after bending
Surface condition Finished U-tubes shall be free of scale, without scratches after bending
Dimensional tolerances U-tubes acc. to TEMA R.C.B.
Length of straight part -0/+5 mm
Flattening (also called "ovality") at the bend shall not exceed 10% of the nominal tube outside diameter.
Wall thickness in bending part acc. to TEMA RCB 2.31 Minimum tube wall thickness in the bend part (T min)T(min) ≥ (SW × (2×R + D))/( 2× (R+D)where:  
SW  is smallest wall thickness D  Nominal outside diameter R radius
Radius tolerance 1) for R  100 mm +/- 3 mm
2) for R ≥ 100 mm +/- 5 mm
Straightness tolerance max. 1,5 mm per 1 m
U-Tube ends: plain, vertically cut to the tube axis
Repairs by welding: prohibited
Surface condition Finished U-tubes shall be free of scale, without scratches after bending,
Mandatory tests for U-tubes
100 % Dimensional and visual control.
100 % Ball passed test
100 % Hydrostatic test min 10Mpa/ min 10sec.
Coating :Passivation and oiled, Black paint or varnish
Packing:Plastic plugs in both ends, bundles of max. 3,000kg with several steel strips, Two tags on each bundle,
Wrapped in waterproof paper packed in wooden case
Mill Test Certificate:EN 10204/3.1B
U tubes
7.7.2 U – tubes shall meet following requirements:
A. All tubes shall be seamless and Normalized.
B. Tubes shall be cold bent (see also para.8.10.5).
C.Unroundness of the bent section shall not exceed +6% of tube nominal diameter.
E. The bending radius shall not be less than1.5 times the tube nominal diameter.
F. Each U – tube shall be formed from a single length. The length specified shall
be the straight length measured from end to return bend tangent.
G. If temperature differential of over 110°C. occurs between legs of any U–tube,
stress analysis is required to keep stresses within permitted limits.
H. Minimum wall thickness in the bent portion before bending shall be in
accordance with TEMA.Also, refer to RCB-2.323, IPS-G-ME-220.
Material of tube baffles, spacers, and tie rods, shall be compatible with tube
material. For example carbon steel baffles should not be used with nonferrous or
stainless steel tubes. Any exceptions shall be specified on the Process Data
Sheet.
All carbon steel "U" bends shall be stress relieved after bending including a
minimum of 600mm from tangent point in accordance with ASME Code. As a
minimum the requirements for spot radiography shall be met.
PWHT
PWHT as per code.
Next: 没有了!
Contact Us

Jiangyin Donghao Stainless Steel Tube Co.,Ltd
Add:No.88,Zhenyang Road, Qingyang Town, Jiangyin City, Jiangsu Province,People's Republic of China.
Email:Sales@dh-pipe.com
Tel:0086-512-58220050
Fax:0086-512-58810865
dhpipe
dh-pipe@hotmail.com
Web: www.dh-pipe.com